首屆Miss SAKE Hong Kong現已誕生
由文寶兒小姐勇奪冠軍
任內將透過清酒宣揚日本文化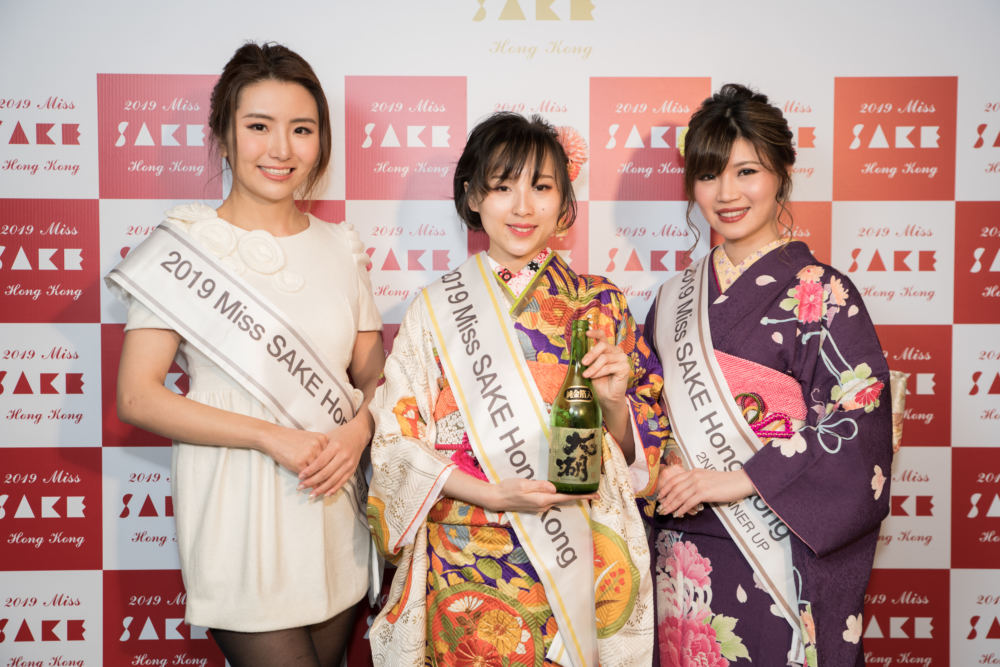 (左起:亞軍李芷菱小姐、冠軍文寶兒小姐、季軍林芷瑩小姐)
由日本 Miss SAKE協會全力支持下,首屆 《2019 Miss SAKE Hong Kong》競選已於2019年2月在海景嘉福洲際酒店順利舉行,Miss SAKE Hong Kong冠軍文寶兒小姐將履行其任內職務,與全球的Miss SAKE 攜手,肩負起向海外推廣日本清酒文化的責任。
決賽大會評審團由陳銘基先生、崔啟明先生、永井憲先生、紀曉華先生組成。大會安排5位在初選最高評分的參賽者以和服造型亮相,妙答大會評審的尖銳提問,展示口才及急智。緊接著的清酒品飲環節中,每位參賽者亦充份展現其對日本清酒及文化的熱情及獨到見解。
經過連場競逐後,最終由27歲的文寶兒小姐摘下桂冠,亞軍及季軍分別為李芷菱小姐及林芷瑩小姐,3 位2019 Miss SAKE Hong Kong將在來年一同在香港宣揚日本文化及品嚐清酒的樂趣。
冠軍文寶兒小姐本身 貴為SSI國際唎酒師,她對清酒充滿熱枕,從事清酒相關工作多年,曾走訪20多個清酒酒莊,了解各酒莊之特色及當地風土。她希望可以透過2019 Miss SAKE Hong Kong 的身份在今後的各個活動及工作坊中,培養香港大眾對清酒的興趣,加深他們對日本各縣的歷史及和食文化的了解。她將於3月中旬代表香港前往日本京都出席2019 Miss SAKE Japan 就職典禮,並參觀釀酒廠及其他相關活動。
The Debut Announcement of Miss SAKE Hong Kong
Ms. Bowie Man Endeavours to Promote Japanese Culture Through Sake
With the support of Miss SAKE Association from Japan, the first edition of 2019 Miss SAKE Hong Kong contest was successfully held on February at InterContinental Grand Stanford Hong Kong. Ms. Bowie Man, winner crowned the honour, is going to work in hand with other Miss SAKEs around the world and present Japanese sake culture at its finest.
Members of the judging panel of the final round are Mr. Micky Chan, Mr. Eddie Chui, Mr. Ken Nagai and Mr. Walter Kei. The top five finalists were dressed up in kimonos and kicked off the competition with an engaging question and answer session, followed by the sake tasting session – from which their passion and thorough understanding on sake was fully displayed.
After rounds of challenges, 27-year-old Ms. Bowie Man was announced as the winner. First runner-up and second runner-up were namely Ms. Camila Lee and Ms. Nico Lam respectively. They will work together with Bowie to promote Japanese and sake culture in Hong Kong.
Ms. Bowie Man, the first Miss SAKE Hong Kong, is a SSI Sake Sommelier. Her dedication to sake sprung from her work experience in the sake industry for years. Having visited over 20 sake breweries, she understands their features and local terrior perfectly. After winning Miss SAKE Hong Kong 2019, she hopes to cultivate the interest of Hong Kong mass audience towards sake via the series of upcoming events and workshops. She is representing Hong Kong to join the inauguration ceremony of 2019 Miss SAKE in Kyoto mid March. During the trip she will take part in other activities like visiting sake breweries.